These books by Thierry Vissac are yet unpublished in English
On both legs – The emergence of the soul and the crossing of the fault (English translation available)
Sur Deux jambes – Émergence de l'âme et Traversée de la faille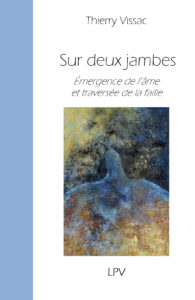 Our journey through incarnation teaches us one first essential thing: our personalized project in life, our « life path », which is the first drive in our existence. The soul remembers it at all times. Our personal stories on more superficial planes build layers cutting us from that essential information. In other words, what we see as our « daily duty » is not often what we imagine it to be. We can definitely lose ourselves in sidetracks away from our fundamental nature. Listening to one's intuition is thus a necessary step in order to hear oneself on another plane. It is necessary to learn how to recognize and characterize the flavor of an intuition in order to differentiate it from that of emotions which, despite their convincing intensity, are not on the same level. Intensity is never a hallmark in the process of « descent ». For that matter, the most profound qualities are often plain, quiet and gentle.
We will therefore learn how to question the forgotten strata of our being in order to let them regain their right place and full expression and let them irrigate the somewhat dried up dimensions of our life.
French version : December 2019 • 162 pages • 15,00 € • ISBN 9782914800402 • EAN 9782914800402
The Crossing – Three key steps towards liberation (English translation available)
 Traversée – Trois étapes clés pour une libération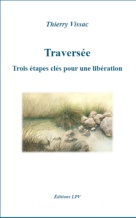 The Crossing describes with precision the method of self-accompaniment proposed by Thierry Vissac. This book responds to a request from readers to have a daily support manual allowing them to integrate autonomously the approach Thierry Vissac presents in his conferences. It is a practical and inspiring guide offering the possibility of liberation, in times of crisis as in the simplest moments of our existence.
French version : January 2013 • 64 pages • 10,00 € • ISBN 9782914800259 • EAN 9782914800259